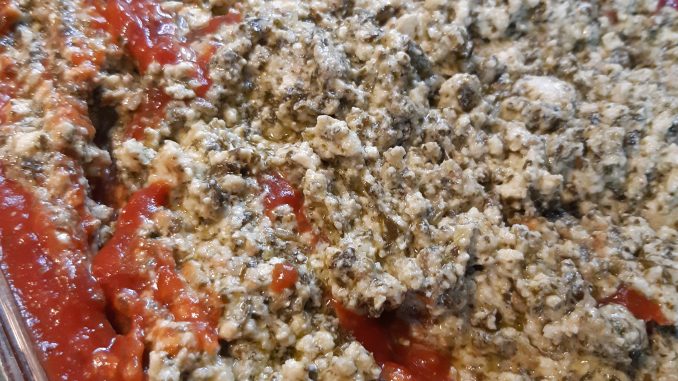 This recipe is the easy-peasy version that requires very little preparation or special equipment.
Ingredients
1 squash
olive oil
salt
pepper
tofu (firm or extra firm, drained, excess water squeezed out)
pesto (ready made or make your own if you have a favourite recipe)
marina sauce (or spaghetti sauce)
parmesan cheese (or shredded Italiano cheese blend)

---
Directions

Preheat oven at 375
Cut the squash in half and coat with olive oil, then sprinkle it with salt and pepper.
Place the squash on a baking sheet cut-side down
Bake for 45 minutes.
Take it out of the oven and let sit long enough to cool it a bit so you can handle it.
Coat a 9 X 13 casserole or baking dish with olive oil
In a bowl, mix the tofu, pesto and cheese, until it's creamy
After it is sufficiently cooled, using a fork, scrape out the inside of the squash and put it in the 9 X 13 casserole or baking dish.
Layer the tofu/cheese/pesto mixture on top of the squash and top the entire thing with the marinara or spaghetti sauce.
Cover and bake for 20 minutes then remove the cover and let it bake for another 15 minutes.
Let stand for 10 minutes and serve.

This can be eaten by itself or add a side dish, some delicious green vegetable, choice of meat, or roasted chickpeas.
---
Adapted from Minimalist Baker