This is not a complete list, however, I will continue to populate it with other varieties and relevant information.
Ambrosia
Sweet, crisp, aromatic flavor reminiscent of pear and low acidity.
Mostly red coloration, with yellow patches.
Flesh is cream-colored, firm meat
Medium to large in size
Developed in British Columbia in the early 1990s.
Believed to be a cross of a Jonagold and Golden Delicious.
Ripens mid to late season
Autumn Crisp
Sweet tart flavor
flesh resists broowning
high in Vitamin C
late season
Cortland
A Ben Davis/McIntosh cross
large flat, dull red apple with a purple hue and soft, white flesh
Less aromatic than McIntosh
Good keeper.
Very good in salads.
Mid season
Crispin/Mutsu
Light green to yellowish white
Sweet, rich, full flavor, very juicy and super crisp.
Firm, dense texture
Best for: eating fresh
Mid – late season
Empire
A McIntosh type apple
Long shelf life
Aromatic and crisp with creamy white juicy flesh.
Flesh does not brown quickly when sliced
Tasty blend of sweet and tart
Best for: eating fresh and baking
Early – Mid season
Fuji
Very sweet, aromatic flavor
Yellow-green with red highlights
Originated in Japan.
Best for: eating, salads, best applesauce apple
Late season
Gala
Developed in New Zealand.
Sweet, aromatic flavor
Best for: eating, salad, best applesauce apple
medium to smaller in size with a distinctive red and yellow striped heart-shaped appearance.
Early to mid season
Golden Delicious
Firm white flesh which retains its shape
Rich mild flavor when baked or cooked.
Tender skin
Stays white longer when cut;
Best for: salads, blend in applesauce
Early season
Granny Smith
Very tart
Bright green appearance, crisp bite and tart apple flavor.
Best for: people who like tart apples rather than sweet ones 🙂
Mid to late season
Not good for applesauce unless you add sugar (or like a very tart applesauce)
Honeycrisp
Introduced in Minnesota
Very sweet and aromatic
Great for juice, as it is a very juicy apple
Best for: Eating, pies, baking
Mid season
Ida Red
Crisp with a sweet tart flavor.
Great for pies and fresh eating.
Late season
MacIntosh
Best for: eating, sauce, salad, good as part of a blend for applesauce
Sweet, mild flavor
Red Delicious
Best for: eating, salad, very good as a base apple for applesauce
Thin bright red skin with a mildly flavored fine-grained white flesh.
Bruises easily and does not keep well.
Early to mid season
There are many, many varieties of red delicious, so there is a range of properties. Not all red delicious are the same!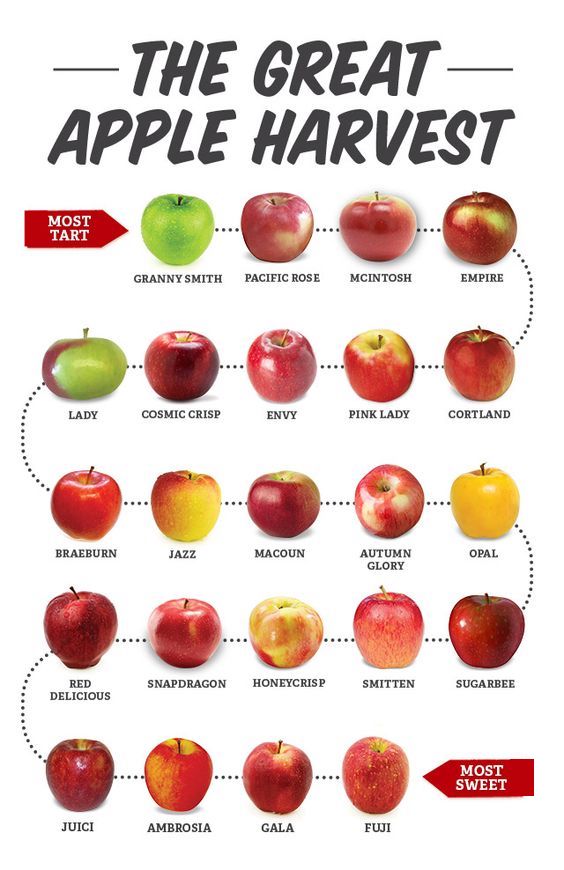 Source: https://pickyourown.org/pdfs/applevarieties-descriptions.pdf