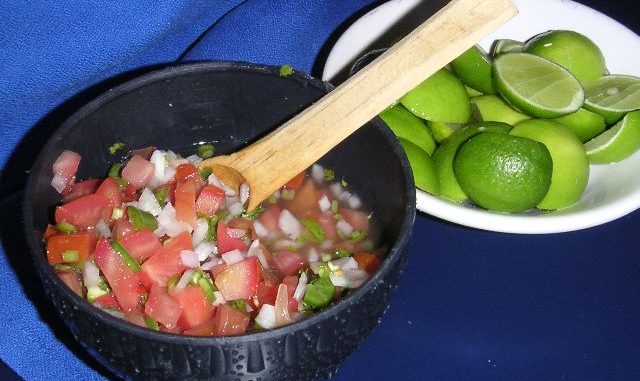 Pico de Gallo which literally translates to 'beak of rooster', is also called salsa fresca and salsa cruda, is a type of salsa commonly used in Mexican cuisine. It is traditionally made from chopped tomato, onion, Serrano peppers (jalapeños or habaneros may be used as alternatives), with salt, lime juice, and coriander.
Pico de gallo can be used in much the same way as other Mexican liquid salsas. Because it contains less liquid, it also can be used as a main ingredient in dishes such as tacos and fajitas.
The tomato-based variety is widely known as salsa picada (minced/chopped sauce). In Mexico it is normally called salsa mexicana (Mexican sauce). Because the colours of the red tomato, white onion, and green chili and cilantro are reminiscent of the colours of the Mexican flag, it is also called salsa bandera (flag sauce).
In many regions of Mexico the term pico de gallo describes any of a variety of salads (including fruit salads), salsa, or fillings made with tomato, tomatillo, avocado, orange, jícama, cucumber, papaya, or mild chilis. The ingredients are tossed in lime juice and optionally with either hot sauce or chamoy, then sprinkled with a salty chili powder.
Here's a quick and easy zesty recipe to excite your taste buds
Ingredients
6 firm Roma (plum) tomatoes
1/2 red or white onion, diced
Juice from 1/2 lime
1 teaspoon sea salt
1/4 teaspoon ground black pepper
1/2 cup fresh cilantro, packed
1 jalapeño pepper, seeded and minced
Directions
1. Cut each tomato in half. Scoop out the seeds and pulp and dice.
2. Repeat with the jalapeño pepper.
3. Finely chop the cilantro
4. Juice the lime
5. In a large bowl, combine all the ingredients. Mix well, then cover and chill for at least 30 minutes. For the best flavour, let chill for two hours or more.
Serve with tortilla chips or add to burritos, tacos, quesadillas or fajitas. Be sure to use a slotted spoon if you don't want all the liquid.
Source: Wikipedia