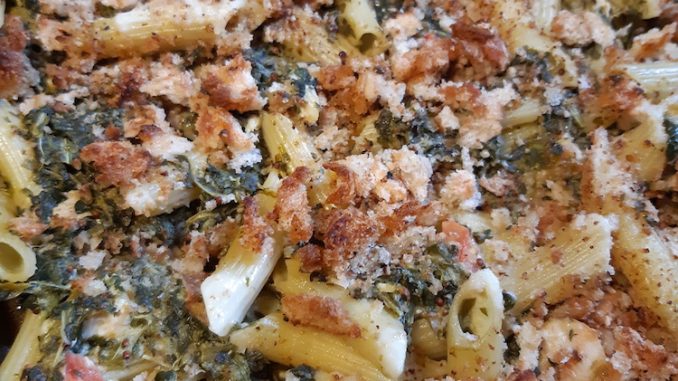 Ingredients
12 ounces short pasta  ( your choice of either Penne, Fusili, Gemeli, or Rotini)
1 cup breadcrumbs
1 cup grated Parmesan cheese, divided
4 tablespoons olive oil, divided
3/4 teaspoon freshly ground black pepper, divided
1 bunch kale, or spinach
1 large tomato, peeled, chopped into small pieces
1 cup sour cream
1 tablespoon Dijon or old style prepared mustard
Shredded cooked chicken – 4 cups, no skin
1 1/2 cups crumbled Asiago cheese, divided
Salt
Directions
1.  Preheat oven to 450°F.
2.  In a non-stick frying pan, brown and thoroughly cook your chicken. Shred when completely cooked.
3.  Cook pasta in a large pot of boiling salted water according to package directions.
4.  Mix breadcrumbs, 1/4 cup Parmesan, 2 Tbsp. oil, 1/4 tsp. and 1/4 tsp. pepper in a medium bowl.
5.  Toss spinach or kale and tomatoes with 1/2 tsp. salt and remaining 2 Tbsp. oil in a large bowl
6.  Drain pasta, reserving 1/2 cup pasta cooking liquid.
7.  Return pasta to pot.
Add sour cream, mustard, 1 tsp. salt, 1/4 cup pasta cooking liquid, and remaining 3/4 cup Parmesan, 1/2 tsp. pepper. Stir until smooth.
8.  Add the cooked, shredded chicken and 1 cup crumbled Asiago to the cooked pasta, adding more pasta cooking liquid if needed, until evenly coated.
9.  Add this pasta mixture to the bowl of tomato/spinach or kale and quickly mix.
10.  Transfer to a rimmed sheet pan.
Top with breadcrumb mixture and remaining 1/2 cup Asiago.
Roast pasta mixture until cheese is melted and top is lightly browned, 5–7 minutes.
Adapted from Epicurious