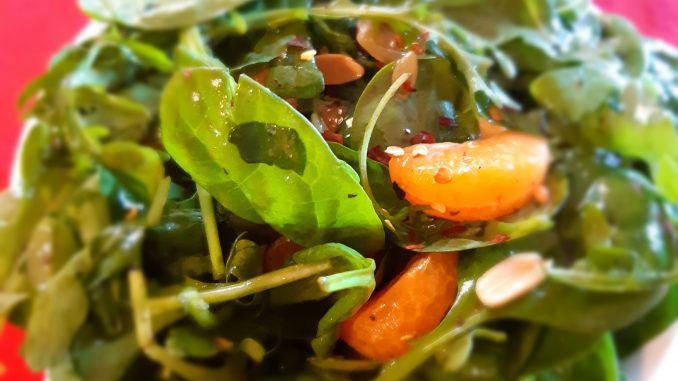 Quite possibly one of the easiest lunch or dinner salads to make and one that is full of bursts of flavour. As (almost) always, the amount you use of the ingredients, depends on how many people you're serving or how much you plan to eat yourself.

Ingredients
Spinach (salad pre-packaged salad. You can use fresh.)
Arugula (pre-packaged salad. You can use fresh.)
Tangerine (Clementine, peels and separated)
Spicy Mango Snack Mix (I used President's Choice, which consists of a spicy blend of peanuts, jalapéno seasoned almonds, mango, pumpkin seeds. You can use whatever nuts mix you like)
Crushed Chile (because I like it spicy – you might want to skip this if you don't like it too spicy)
Balsamic Vinaigrette dressing

Directions
Mix all the ingredients in a bowl until well blended.
Serve in individual bowls.
Top with a sprinkle of crushed Chile if you want it hotter.