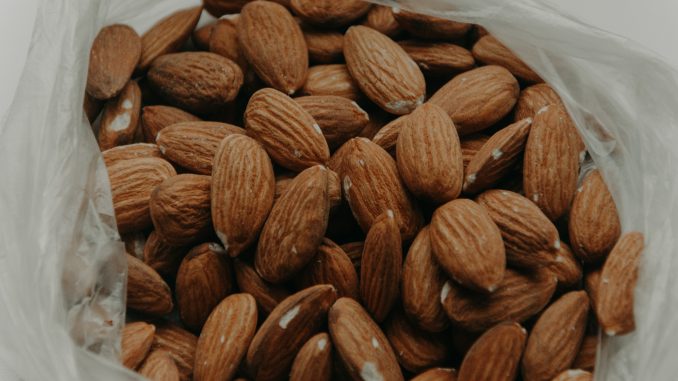 I made a 90-second cloud bread in the microwave for lunch
(mix 4 tablespoons of almond flour with 1 large egg and microwave for 1.5 minutes). I used to make quick tortilla's for the kids like this using other types of flour, minus the egg and adding a pinch of salt to the mix.

It's very simple and easy to make especially when you're pressed for time and want something that will satiate.

So today someone posted on social media the cloud bread and all the memories came back so I decided to search for recipes online and add them to the site.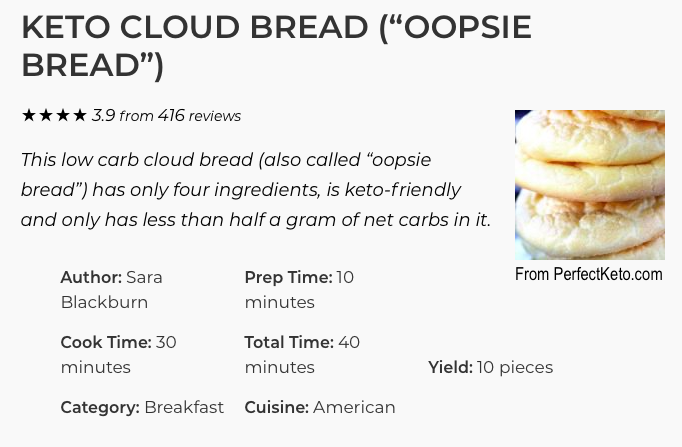 INGREDIENTS
3 eggs, room temperature
3 tbsp cream cheese, softened
1/4 tsp cream of tartar
1/4 tsp salt
NUTRITION
Serving Size: 1 piece
Calories: 35
Fat: 2.8g
Carbohydrates: 0.4g
Protein: 2.2g For instructions go to PerfectKeto.com
The following is from Delish.com and we highly recommend going to the page and reading this article, especially if you're not sure what ingredients are or aren't absolutely necessary to make Keto Cloud (Oopsie) Bread.


INGREDIENTS
FOR PLAIN CLOUD BREAD
3 large eggs, at room temperature
1/4 tsp. cream of tartar
Pinch of kosher salt
2 oz. cream cheese, softened
FOR PIZZA CLOUD BREAD
1 tbsp. Italian seasoning
2 tbsp. shredded mozzarella or grated Parmesan
2 tsp. tomato paste
FOR EVERYTHING BAGEL CLOUD BREAD
1/8 tsp. kosher salt
1 tsp. poppy seeds
1 tsp. sesame seeds
1 tsp. minced dried garlic
1 tsp. minced dried onion
FOR RANCH CLOUD BREAD
1 1/2 tsp. ranch seasoning powder