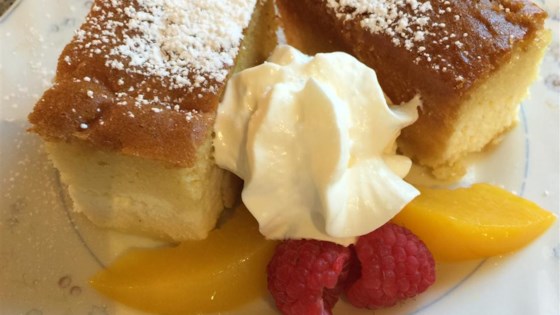 This recipe is on my "must try" list.  I'm actually going to make it on Mother's Day which also happens to be my husbands birthday so we are going to have people here and will get an honest opinion on it.
Ingredients
1 (18.25 ounce) package yellow cake mix
2 pounds ricotta cheese
3/4 cup white sugar
4 eggs
1 teaspoon vanilla extract
Instructions
1. Preheat oven to 350 degrees F (175 degrees C). Grease and flour a 9x13 inch pan. Prepare the cake according to the directions on the package.
2. In a medium bowl, combine ricotta, sugar, eggs and vanilla. Mix until smooth. Drop by spoonfuls on top of uncooked cake.
3. Bake at 350 degrees F (175 degrees C) for 1 1/2 hours, or until a toothpick inserted into the cake comes out clean.
4. Sprinkle cooled cake with confectioners sugar.
Keep refrigerated.
https://windsorbusinessnetworks.com/MashupKaffe/2018/05/03/ricotta-cake/
Source:  Ricotta Cake from All Recipes