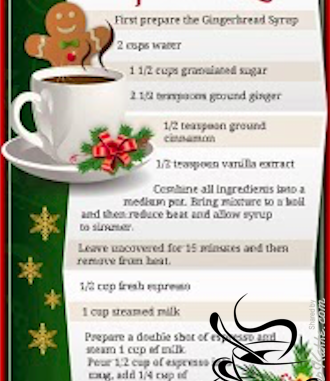 First prepare the Gingerbread Syrup
2 cups water
1 1/2 cups granulated sugar
2 1/2 teaspoons ground ginger
1/2 teaspoon ground cinnamon
1/2 teaspoon vanilla extract
Combine all ingredients into a medium pot.
Bring mixture to a boil and then reduce heat and allow syrup to simmer.
Leave uncovered for 15 minutes and then remove from heat.
1/2 cup fresh espresso
1 cup steamed milk
Prepare a double shot of espresso and steam 1 cup of milk.
Pour 1/2 cup of espresso into mug, add 1/4 cup of gingerbread syrup followed by the milk.
Stir and serve hot.
beverages, Christmas, fun, holiday, recipes, Starbucks, Thanksgiving