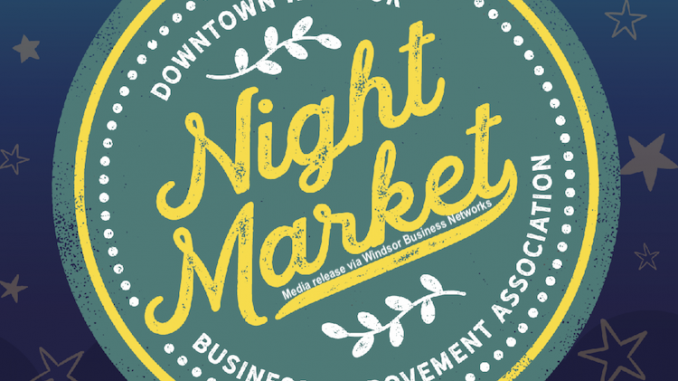 It's finally here — the Downtown Windsor Business Improvement Association's (DWBIA) much loved Night Market makes its return on Friday, April 29.
From 6 to 10 p.m., 30+ vendors will be ready and waiting to greet eager shoppers inside the Pelissier Street Parking Garage, selling their one-of-a-kind, artisanal wares.
Products sold at the Night Market include stoneware pottery, handmade jewellery, soaps, bath bombs, bodywash, 14k gold & silver jewellery, art pieces, and coins and numismatic materials. Shoppers can also browse candles and wax melts, upcycled and vintage clothing, recycled wood wall-arts and furniture, macrame plant hangers and lanterns, crystals, home décor and more. A henna artist will also be on site for those looking for temporary body beautification services.
"The Night Market truly embodies the best downtown Windsor has to offer," says DWBIA Chair Brian Yeomans. "Through events like the Night Market, visitors and residents can rediscover downtown Windsor, taking in its vibrancy and vivacity. It's a great way for shoppers and artisans and entrepreneurs to connect and engage, against the backdrop of the city core."
Participating vendors including:
Alice Welsh Pawttery
Antua Artworks
Baylis Beads
Bella Rose/Luna Rose
Cedar Sage Design Co
Coffyn Piez
Collectors Corner Coins
Dahab Designs
Designs by Sav
Eh plus vintage
Emma's Dog Treats and Accessories
Gorgeous Wreck Design
Haven Handcrafted
Hazel in Pink Handmade Creations
Henna Bee
Jesmyne
Kabell Creations
Luiz Salazar Art & Laura's Weavings
Made Sew Well
Michele & Terra's Crafts
My Choice Natural
Permanent Pallets
Rose City Relics
SJ Custom Designs
S'more Forge
Soap Chef Made to Order
The Beadiva
Touch of Craft
Trevor's Crystals
Trinketz and Tingz
Vintage Wear
Walkerville Candles
Wheate + Thistle
Yasmeen's Shop
Zutti's Cuties