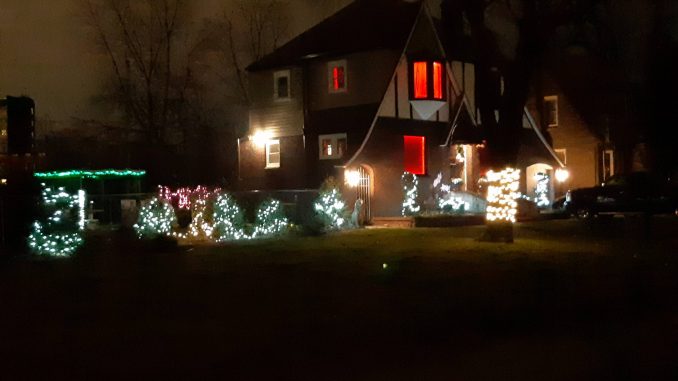 Sharing Link for this page: http://ow.ly/hQ4750GPLGj
2021 Holiday Events and Parades
Downtown Windsor Holiday Village
Kingsville
November 17:  Christmas Open House & Night Market
10am -8pm at Colasantis Tropical Gardens
Take a stroll through holiday displays featuring large festive Christmas trees, sleighs, a gingerbread house, ornaments, cheerful winter decor, live fresh greenery and poinsettias
November 20:  Fantasy of Lights, Kingsville
The 29th annual Fantasy of Lights Festival has something for the whole family. The festival starts on November 20, 2021. Come out and join us for all of the activities, including fireworks! You can also take part in our Light up the Town Competition. Decorate your home or storefront for a chance to win.
Santa Claus Parade and Toy Drive
Saturday, November 20, 2021
6:00 pm
Downtown Kingsville (Main and Division)
Lighting of the Lights Kick-Off & Fireworks
Saturday, November 20, 2021
8:00 pm (following the Santa Claus Parade)
Lakeside Park, Upper Bowl
Paws and Claus
Tuesday, December 7, 2021
6 pm – 8 pm
Lakeside Park Pavilion
By Donation
Bring your pet and your camera to the Lakeside Park Pavilion to have their photo taken with Santa! There will also be pet-friendly vendors onsite. Pets must remain on a leash. Anyone attending this indoor event will be required to provide proof of double vaccination and fill out a COVID-19 screening questionnaire.
---
Amherstburg
November  27:  Santa Parade 2021, 6 p.m.
Route begins at Sandwich Street South to Richmond Street to Dalhousie Street.
---
Leamington
November 27:  Leamington Community Christmas Parade
from 5 p.m. – 8 p.m.
The drive-thru event will be held in Point Pelee National Park on Nov. 27th from 5:00 p.m. to 8:00 p.m. Spectators can view the floats, mascots, clowns, elves, Mrs., and Santa himself from their vehicle. The floats will be stationary, and the spectators will drive by enjoying the lit-up entries as well as the beauty of Canada's most southern National Park.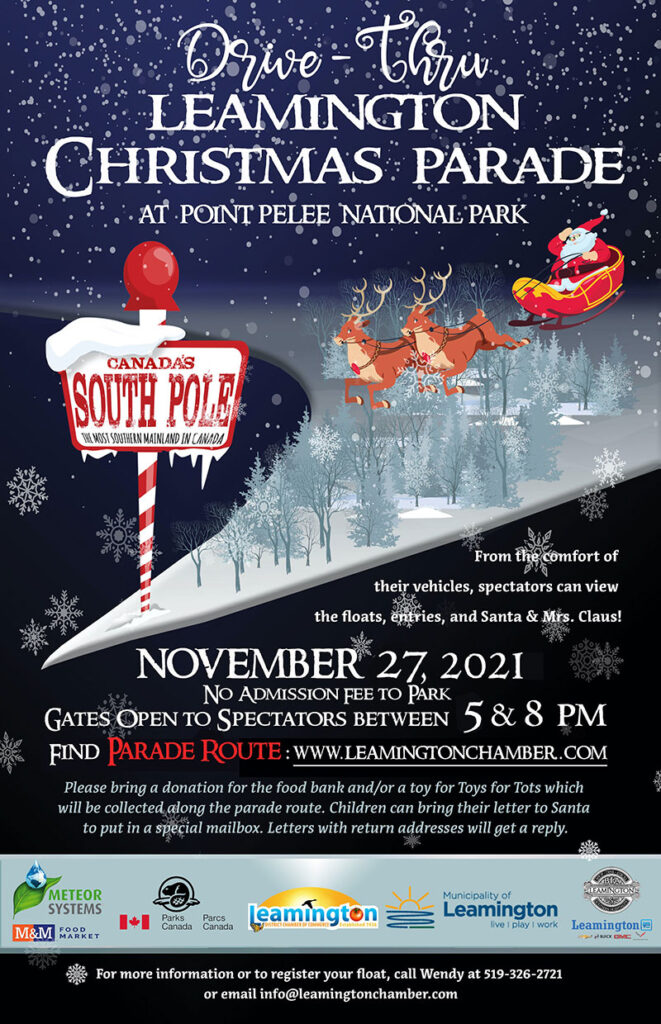 ---
Windsor
December 4, 6PM:  Windsor 2021 Santa Claus Parade
Parade runs along Wyandotte from Devonshire Road to Glengarry Avenue.  Thanks to Jessie Laura for the correct route information.
Corrected parade route
---
This was the  Route that was originally posted, however it has been corrected with a new link above the map.  The map has also been updated.
---
Essex

December 11, 6:30 p.m. Essex 2021 Santa Clause Parade
Parade starts at Fairview and County Rd 34, travelling down County Rd 34 and ending at Maidstone Ave.  Parade Route
Holiday Lights 2020
Holiday Lights 2019