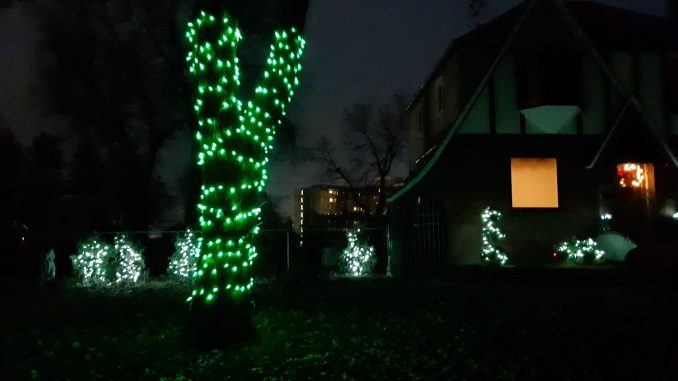 Send us your 2020 Holiday Light pictures along with address (minimally we need the street name and locale).  Photographs will be displayed on this page along with your address so the community can do a holiday light drive-by.
Scroll for a list of local displays, below gallery.
Pictures below curated by WBN
Christmas lights in W.E. That Are Pictured Above
Pillette (at Seminole) – Inflatables
Pillette 3 houses side by side (at South National) – lots of lights. Some pics in gallery
Grand Marais E at Bernard – Lights, inflatables
Tranby – lots of lights with music
Regional Holiday Displays
Windsor Area
1200 block of Laurendeau Ave
Pearson Avenue & Beverly Glen Street
Queen Elizabeth Drive nesr Wachna Drive
Robert Road
Rivard Avenue & Adstoll Avenue
Jefferson Near Queen Elizabeth
1500 block of Pillette Rd
2500 block of Pillette Rd
1000 block of Pillette Rd
Matthew Brady Boulevard & Tranby Avenue
10800 block of Eastcourt Dr
Cora Greenwood Drive Area
2500 block of Lloyd George Blvd
Grandview Street & Queen Elizabeth Drive
Saint Louis Avenue
200 block of Thompson Blvd
1000 block of St Marys Blvd
Renaud Street
3354 Dougall Ave
Whitefish Crescent
Grand Boulevard
9572 block of Avery Ln
2500 block of Byng Rd
2000 Willistead Crescent
900 block of Lincoln Rd
800 block of Hall Ave
600 block of Moy Ave
800 block of Kildare Rd
800 block of Gladstone Ave
Frank St
Cross St
Bernard
Belle River/Lakeshore Area
300 block of East Puce Rd
200 block of Gammon Crescent
Ashwood Crescent & Birchwood Crescent
291 St. Peter Street
Tisdelle Drive
200 block of Trottier St
Ducharme Street & Royal Crescent area
County Rd. 22
Country Rd. 22
King Louis Street & Monarch Meadows Drive Areaa
"The Woods" area
William & Raymond Street
Lakeshore Road 302
Lasalle Area
200 block of Martin Ln
Carnegie Avenue
Delaware Avenue
Bouffard Road
Normandy Street
1515 Argus St
Reaume Road
Monty Street
Ulster Street
600 block of Victory St
Winfield Drive
1700 block of Front Rd
1000 block of Heritage Dr
Amherstburg Area
Amherstburg Navy Yard National Historic Site of Canada
Front Rd (Between Kingsbridge Dr and Middle Side Rd)
Austin "Toddy" Jones Park
Leamington/Kingsville Area
85 Alderton St
Williams Light Show – 24 Marshwoods Blvd
Hayward Street just off Danforth Avenue
Harrow Area
Masaccio Drive
3000 block of McLean Rd
Catherine Duransky Drive
Leamington/Kingsville Area
85 Alderton St
Williams Light Show – 24 Marshwoods Blvd
Hayward Street just off Danforth Avenue
Locations of light displays include:
Charles Clark Square
Chimczuk Museum
City Hall
Jackson Park
Mackenzie Hall
Ouellette Overpass
Sandwich Town
Transit Centre
WFCU Centre
Willistead Manor
Windsor International Aquatic and Training Centre
Windsor Bright Lights City-Wide 2020 Map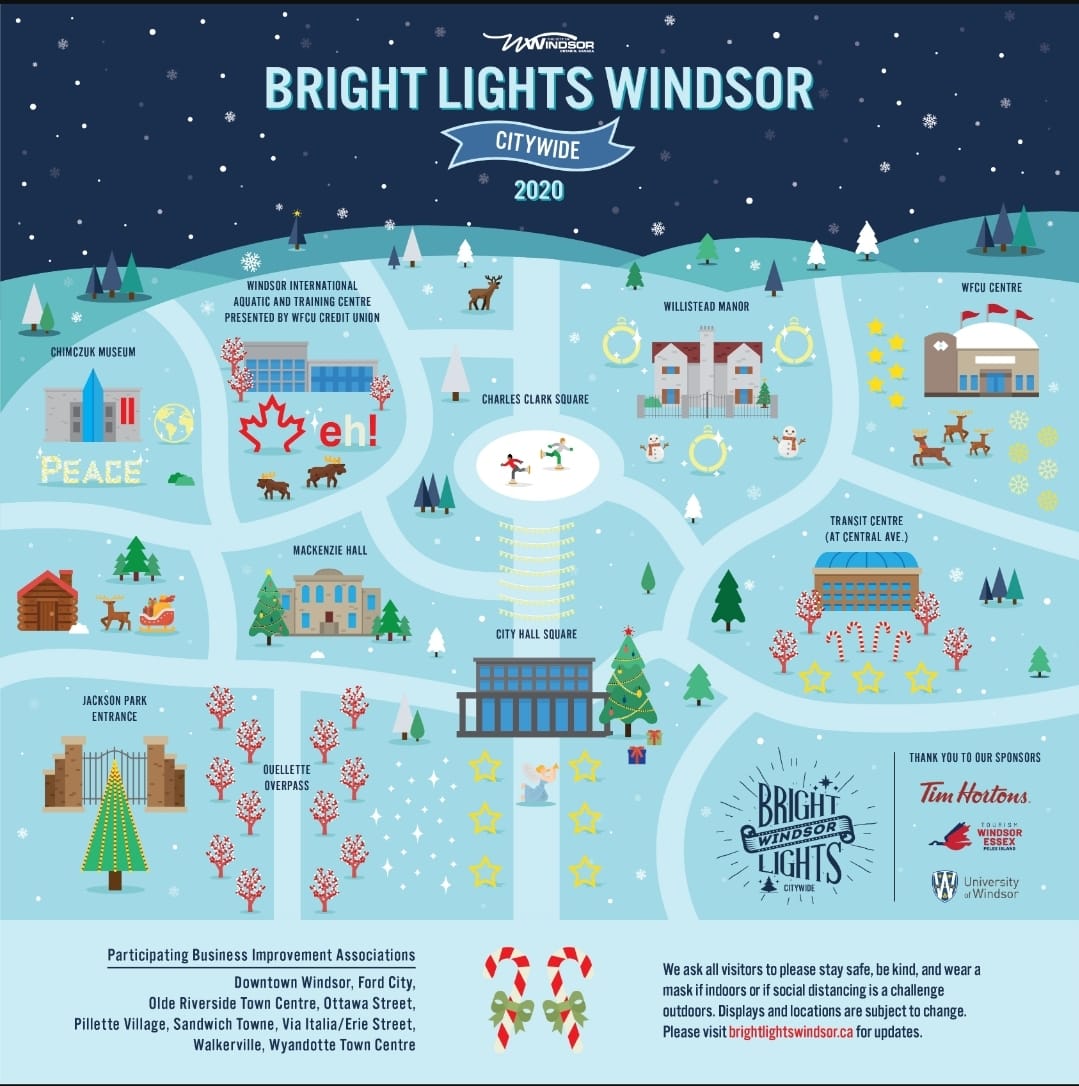 Check out Holiday Lights 2019
#WBNWasThere #WeWereThere #HolidayLights
The Fine Print
Any photo submitted must be your own.  By sending it to us you are proclaiming the right to do so and give us the right to display it, along with your information, on our website.
Source:  Content created by Windsor Business Networks,  our followers, and others.