March:  Earth Hour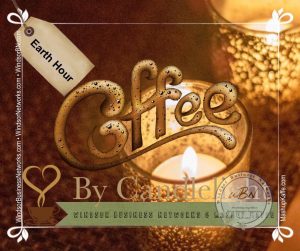 Coffee By Candlelight
2023, Earth Hour is March 25th
from 8:30PM until 9:30PM
Every year since its creation in 2007, we have taken part in this initiative to raise awareness for climate change.
Earth Hour started in 2007 by World Wildlife Federation as a symbolic lights-out event in Sydney to raise awareness of climate change.  Earth Hour is now one of the world's largest grassroots movements for the environment. Held every year on the last Saturday of March, Earth Hour engages supporters in more than 190 countries and territories.  It has gone beyond the symbolic action of turning off lights, and has become a catalyst for positive environmental changes.  Windsor Business Networks contribution to this movement is the Coffee by Candlelight which we have done since year one, although we didn't give it its 'official' name until 2013.
More details will be added to our Facebook event page
October:
Sock, Hat, & Mitt Drive
November 11:
Red-On for Veterans

Windsor Business Networks way of showing respect and support for our veterans each year on Remembrance Day, is to encourage everyone to buy a poppy from their local legion and to also dress their homes, offices, and cars in red for November 11th.
We have printable poppy designs on our Red-On for Veterans page, so you can print and decorate your walls, doors and windows.   Send us your pictures if you would like us to add them to our Red-On for Veterans page.
November 14:
Bowling for Diabetes

Diabetes is a disease in which your body either can't produce insulin or can't properly use the insulin it produces. No matter which type someone is diagnosed with or where they are in their journey—living with diabetes isn't easy.  Windsor Business Networks hosts an annual bowling event that is a fun way to spend a few hours with friends and family or making new friends and networking, to raise awareness and raise funds for Diabetes Canada.
Year-Round Events
Walk & Talk Weekly
Paused Events
Walk to End Hunger
Job Fair
Happy Hour Windsor