The ever-popular Holiday Village returns! Last year, Downtown Windsor's Winter Fest introduced its first-ever Holiday Village, a welcome outdoor event for families and visitors seeking a little bit of holiday magic in a pandemic year. Thanks to its popularity, the Downtown Windsor Business Improvement Association (DWBIA), the Province of Ontario, the Windsor-Essex Regional Chamber of Commerce and the Small Business & Entrepreneurship Centre, a division of Invest WindsorEssex, have partnered to ensure its return.
The Holiday Village transforms our beloved Maiden Lane into a pseudo-North Pole, where downtown residents and visitors are encouraged to enjoy their very own winter wonderland. Christmas trees will line the lane, while carolers serenade passers-by; pop-ups by local confectioners and retailers will be on-hand to sell their wares, perfect for wrapping under the tree. Shoppers can extend their stay by visiting neighbouring retailers and restaurants, and browse offerings at the nearby Downtown Windsor Farmers' Market.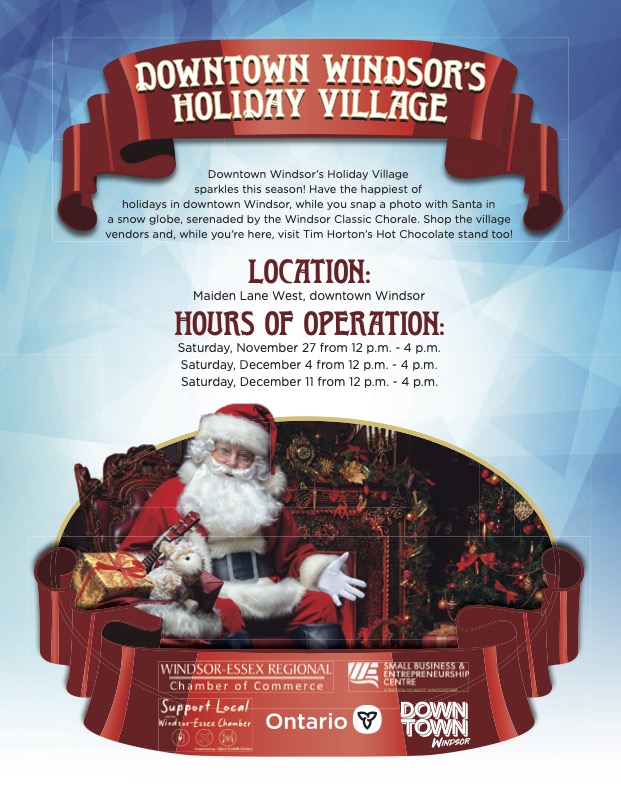 "The Windsor-Essex Regional Chamber of Commerce is pleased to support and be part of the Holiday Village. This initiative was launched last year with much success and we are hoping the community will get behind the event and make it a bigger success this year," said Rakesh Naidu, President & CEO, Windsor-Essex Regional Chamber of Commerce. "The event provides yet another opportunity to explore some of the unique businesses in the downtown area. During this holiday season we are encouraging more people to support our local businesses by visiting downtown and shopping local."
Participating vendors include:
ADVNTR brand
Alice Welsh Pawttery
All On Board
Cedar Sage Design Co.
Crystal Shop
Equanimity Soap Co.
Meiva Macrame
Miiken handcrafted
PASSIONATE.LY YOURS
Paw Paradigm Shhh_woww/my_ollo
Sira by Sel
Treatzels Treats
Yassmeen's Shop
"With the holiday season just weeks away, we are encouraging individuals to shop, explore and celebrate locally for the holidays. This Downtown Holiday Village is an initiative that helps to foster festive community celebrations and boost local businesses who are rebounding from the COVID-19 pandemic," said Sabrina DeMarco, Executive Director, Small Business & Entrepreneurship Centre.
"This is the kind of event that brings so much joy to families – it's a memory-making experience," said DWBIA Chair Brian Yeomans. "It's intended to make you feel transported into your own Christmas story, with the transformed downtown core as your backdrop."
The Downtown Holiday Villages are presented by the Windsor-Essex Chamber of Commerce and its multifaceted Support Local campaign, along with the Small Business & Entrepreneurship Centre. Both of these organizations work hard and diligently to support local businesses and small independents.
The Holiday Village dates are November 27, December 4 and December 11, from 12pm to 4pm. For more information, visit downtownwindsor.ca/winterfest