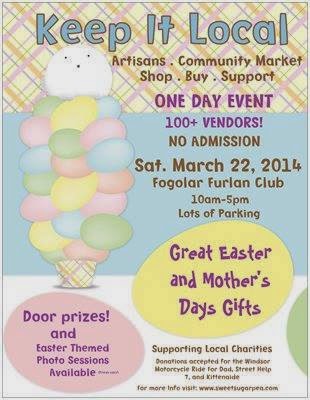 This Saturday, March 22nd from 10am-5pm is the Keep It Local Artisans & Crafters Community Spring Market. Held at the Fogolar Furlan Club at 1800 North Service Road in Windsor.
This is a one day event that includes over 100 vendors, facepainting, door prizes, Spring photo sessions, TONS of great Easter, Mother's Day and Father's Day gifts!
There is no admission fee at the door, but donations are accepted for the charities the event supports – Kittenaide, Ride for Dad, and Street Help.
For more information, visit:
www.keepitlocalevents.wix/events
or http://sweetsugarpea.com
Be sure to like their page on Facebook to be kept in the loop about other upcoming events www.facebook.com/keepitlocalevents