The Downtown Windsor Business Improvement Association (DWBIA) is excited to announce the grand Canada Day Arts Fair taking place on July 1st. This free event will be an incredible extension of the vibrant Downtown Windsor Farmer's Market with over 70+ vendors, enhancing the Canada Day festivities.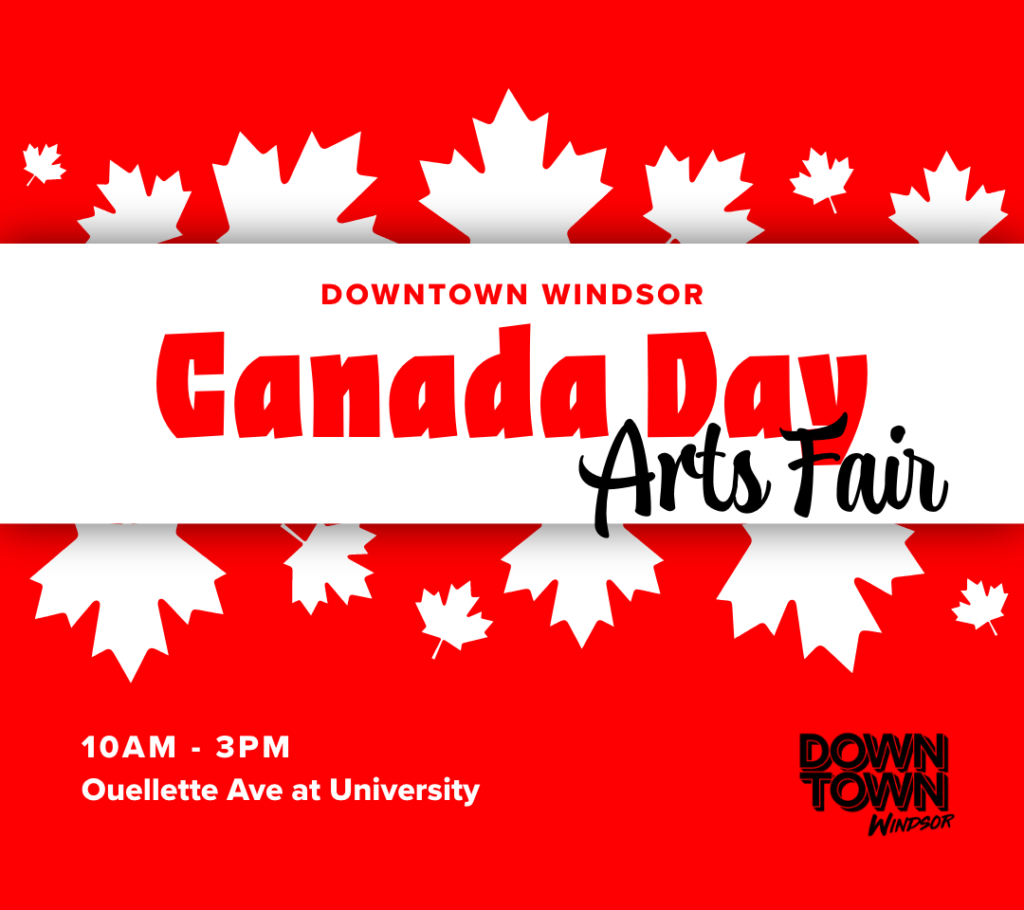 Hosted on Pelissier Street between the hours of 10 a.m. and 2 p.m., the Canada Day Arts Fair aims to infuse a celebratory spirit among the citizens of Windsor and Essex County. With a line-up of talented local artisans offering a rich variety of handmade crafts, unique art, and more, the event promises an exciting day out for families and art enthusiasts alike.
Vendors include:
Allergy Eatables
Berryline Candles
Cabochon Charm
Collectors Corner Coins
Crafts by Amy
DD Designs 2021
Free Popcorn Giveaways
Funky Faces Facepainting
Hidden Trails Escape Room
Higher Limits Crystals
HomeTown Inspiration
Keight Krafts
Kish's Leather Gear
Magenta Menace
MB Realms Entertainment
Nature Smile Frozen Treats & Bean Pies
Rashmi Dadwal Art
Reese's Peaces
Soulmate Cases
Spin Art
Suya Grille
TemporaryTattoos
Vibrant Grainz Inc.
ZenStone Treasures
Expect to be dazzled by performances from skilled aerial artists and stilt walkers, bringing an additional dimension of wonder and amusement to the Fair. The event will also feature live music, courtesy of Laughtertainer Matthew Romain, Clinton Anderson, and the Austin DiPietro Jazz Quartet, to keep the atmosphere upbeat, furthering the joyous mood of Canada Day.

Children and families can look forward to complimentary hands-on arts and crafts workshops; free spin art and face painting booths; delicious free treats like popcorn and flavoured ice; and even a Hidden Trails mobile escape room. And what's a Canada Day celebration without the national spirit? Attendees will be greeted with Canada Day flags, pins, and temporary tattoos to wear proudly throughout the day.
Commenting on the upcoming event, Chris McLeod, DWBIA Chair, said, "We're truly thrilled to host the Canada Day Arts Fair in the core. This is a perfect platform to showcase the exceptional talent in our community, and a great way for us to celebrate Canada Day. We welcome everyone to join in the festivities, support our local artisans, and most importantly, have fun! We have something for everyone, whether you're a lover of art, a fan of live performances, or simply looking for a family-friendly way to celebrate our great nation."
Besides the Arts Fair's engaging activities and performances, the following is also taking place downtown:
Adventure Bay Water Park
401 Pitt St. W.
Open 12pm to 4pm
$16.50 General Admission
$14.00 for Windsor Residents (with proof of residency)
Art Windsor-Essex
401 Riverside Dr. W.
Open 10am to 5pm
Exhibitions:
Flowing Forces
Tina Rouhandeh: Inquiry about Forgotten Birds
BioCurious
MOONSHINE: The Celestial Films of Kevin Jerome Everson
Rick Leong: Hard Look Soft Gaze
Weekends in the Studio, featuring family-friendly activities between 1pm-4pm
Chimczuk Windsor
401 Riverside Dr. W.
Open 10am to 5pm
A Two-Nation Vacation: Memories of the International Freedom Festival
Canada themed crafts in the Hands On History Room
INCUBATOR Art Lab
144 University Ave. W.
Open 10am to 2pm
Take a Tour
Drop in algae painting workshops
The Canada Arts Fair is generously funded by the Government of Canada through the Ministry of Canadian Heritage. For more information, visit downtownwindsor.ca/canada-day-arts-fair