The Downtown Windsor BIA is hosting the first in a series of street closures this weekend!
Join us for a fabulous line-up of local musicians, generously sponsored by the School of Creative Arts, University of Windsor, and be sure to grab a drink, a bite or shop our small businesses.
Bring your family and friends and let us rock your world. We'd love to see you downtown this weekend!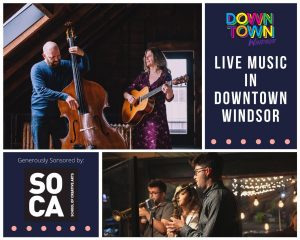 FRIDAY, JULY 30
200 Block of Ouellette (in front of The Coffee Exchange)
5:30-7:30pm: Madeline Doornaert & Dane Roberts (singer/songwriter duo)
8:00-10:00pm:Ted Hogan (solo saxophone – jazz and pop)
300 Block of Ouellette (in front of Lefty's on the O)
5:30-7:30pm: Andrew Seguin (solo finger-style guitar – pop/top 40)
8:00-10:00pm: Strange Cats (classic rock duo)
University Ave West (in front of Craft Heads Brewing Co)
5:30-7:30pm: David Faulkner (solo piano – mix of jazz and pop)
8:00-10:00pm: The Fontaines (folk / singer-songwriter)
Maiden Lane West (in front of Maiden Lane Wine & Spirits)
8:00-10:00pm: Coffee House Combo (vocal jazz trio)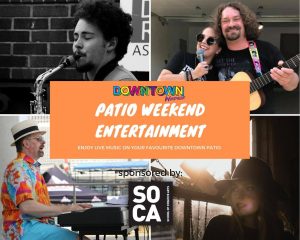 SATURDAY, JULY 31
200 Block of Ouellette (in front of The Coffee Exchange)
8:00-10:00pm: Ted Hogan (solo saxophone – jazz and pop)
300 Block of Ouellette (in front of Lefty's on the O)
8:00-10:00pm: Faking Requests with Mark Calcott (solo piano & vocals)
University Ave West (in front of Craft Heads Brewing Co)
5:30-7:30pm: Due North Trio (jazz trio)
8:00-10:00pm: Andrew Seguin (solo finger-style guitar – pop/top 40)
Maiden Lane West (in front of Maiden Lane Wine & Spirits)
8:00-10:00pm: Organization Trio (instrumental organ, soul-jazz trio)