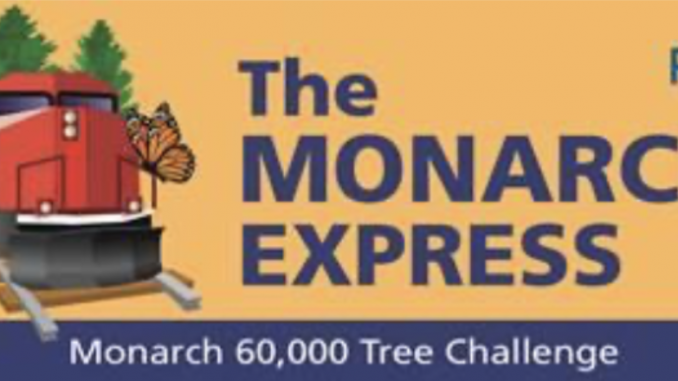 Local Windsor and Essex County Rotary Clubs are pleased to announce that Canadian Pacific's
Monarch Express will visit Windsor on Saturday, September 10th 2022. The Monarch Express is
a CP Rail Freight Car that will begin its journey in Windsor and will follow the migration path of
the endangered Monarch Butterfly. This journey begins in Windsor, Ontario, Canada; continues
on to the United States and ends in Monterrey, Mexico.
Monarch butterflies are among the most recognizable butterfly species in North America. In addition to being an international symbol of the environment, monarch butterflies contribute to the health of the planet. Pollinators are critical to global food security and healthy natural ecosystems, but they're disappearing at an alarming rate. Beloved across its tri-national North American range, the iconic monarch has only a 10 percent chance of persisting above the extinction threshold over the next 30 years.
The Monarch Express will be on display for the public from 10am to 3pm on Saturday,
September 10 th . Rotarians, Monarch enthusiasts, local artisans, and concerned citizens will rally
in support of the Monarch. A special media conference/presentation will take place at 11am.
The purpose of this initiative is to create awareness for public sustainability education directed
toward the plight of the Monarch Butterfly and to promote local pollinator gardens in the
greater Windsor area.
The organizing committee is seeking participants and vendors to provide information and
products that support the beloved Monarch. Space will be provided to non-profit
organizations free of charge. Participants will be required to provide their own
table/chairs/tent as they see fit.
Location: CP Rail Yards – Janette and Elliot Ave. Free Parking is available.
For More Information:
Deb Harshaw Debra Harshaw, Rotary Club of Windsor St. Clair
debra.harshaw@gmail.com
Dinesh Singh Malla, Windsor 1918 Rotary Club
dineshausn@gmail.com