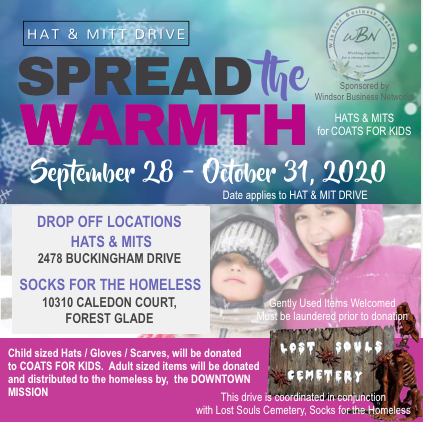 Spread The Warmth
Windsor Business Networks will be collecting hats and mittens that will be donated to Coats for Kids from September 28 until October 31, 2020
When:  September 28 until October 31st, 2020
Where:  2478 Buckingham Drive, in Fountainbleu.
Official donation dates: September 28th – October 31st.
Child sized hats, gloves, and scarves, will be donated to COATS FOR KIDS. Adult sized items will be donated and distributed to the homeless by THE DOWNTOWN MISSION.
Any business who donates and would like to be listed on this page, please include your business card inside the bag with your donation or staple/tape onto the label and your information will be added here.
You can add yourself to the Facebook event, invite your friends and help us spread the word.
>>>  Event on Facebook
The generosity of our community will spread the warmth to many others.