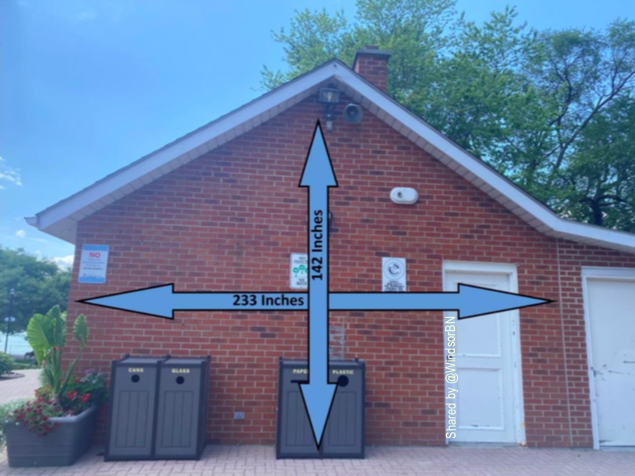 Call for Artists
Requests for Quotes
Amherstburg Privy Building Public Art Installation
The Town of Amherstburg is seeking an Artist to create original artwork to the Amherstburg Privy Building located at 242 Dalhousie St. S. This opportunity is open to established artists living in the Windsor/Essex region.The application deadline is 12:00pm Monday August 31, 2020
The intent is to have the Artist paint the mural during the month of September during the Amherstburg Open Air Weekends (Fridays 4pm to Sunday evenings) which may include spectators with distancing adherence. The Town of Amherstburg can accommodate the space for this.
Project Intent
The location for the piece of public art is the east wall of the Privy Building in the King's Navy Yard Park, a major thoroughfare and entry to the park. The vision for this project is a signature mural of exceptional quality and enduring value located in a prominent public space. This site specific art work should:
Demonstrate artistic excellence.
  Enhance the wall of the privy building, (east facing towards Dalhousie Street) with a distinctive aesthetic experience both highly visible and welcoming to pedestrians.
  Create a signature presence for the building. This can be whimsical and/or colorful; celebrateAmherstburg's identity and rich heritage and reflect on the natural environment.
  This mural should inspire interaction and engagement through photo opportunities such as selfies tobe shared on Amherstburg's social media sites.
  Highlight the importance of the site as a civic facility, and provide a recognizable identity for the King'sNavy Yard Park.
  Be an original art piece appropriate for outdoor installation able to stand up to severe weather, vandalism, graffiti etc.
  Provide excitement and interest for the community as a whole.
  The size of the wall is 233" x 142". This includes the door that can be incorporated in the design.
Eligibility
The request for proposal is open to established artists living in Essex County. Only artists with reviewable portfolios are eligible to apply.
How to Apply
Artists interested in this project must prepare and submit the following:
 Proposed Artwork Concept This proposal shall include conceptual sketches to communicate the Artist concept. It should include a budget and describe the specifications for the artwork related to materials, size and maintenance guidelines. This must also include the artist preference of surface. (The brick wall can be covered with an alternative material to create optimal base for the Artist.)
 Letter of Interest, no more than one page in length, which explains your interest in the project. Please include your name and contact information and state the format of your sample submittal (email or flash drive).
 Work samples (email or flash drive) of your work. Artists applying as a team should submit worksamples of each individual artist's work. All work samples must be submitted in either of the twofollowing formats:
a. A minimum of five digital images. You must number and title each JPEG and include a description sheet with corresponding numbers. The sheet should list your name and the titles, dates, media, and dimensions of your work.
Materials must be received by the Town of Amherstburg Tourism Department by 12:00 pm on Monday August 31, 2020. Postmarks are not acceptable. Emails and hand deliveries will be accepted.
Email quote to svangrinsven@amherstburg.caOr
Drop off or mail to:
Tourism and Culture Town of Amherstburg
266 Dalhousie St
Amherstburg, ON
N9V1W7
Click here for examples of interactive murals