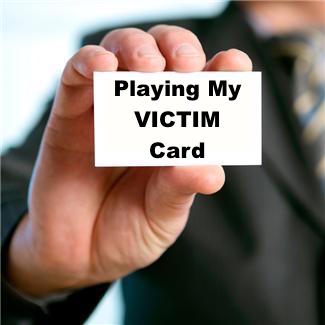 This story really touched me and set off pangs of pain and anger shooting through my very core. It was hard to imagine this sort of overt hate still being doled out.
The [alleged] story goes like this.
A Windsor man who was going to Lansing to teach a hockey workshop claimed that he received a text from the parent of one of his hockey players that told him to resign from coaching because of his ethnicity and religion.
The text from "Chase [Riley's Dad]" read, "Hi, I just wanted to express how I feel about you as my sons hockey coach. I'm not racist or anything but I don't feel comfortable with you teaching him and the influence you will have on him. It's hockey right? It makes more sense it it's not some Muslim guy teaching it. If it was Cricket or something that would be different but it's not. I don't want to make this into an issue and really hope you would consider resigning and not coaching hockey, it goes against tradition and I'm sure there are others who feel the same way. I really don't want to pull my son from the team either but would have to think about that if you're the coach." and it was signed "-Chase"
Javaid's reply to "Chase":
"Say I'm not racist but… and then follow it with clear cut racist and xenophobic nonsense. Jesus Christ. And would make sense if it was Cricket? What's the matter with you? And then saying you don't want to make it into an issue but go ahead and do just that. Want to be rude to me? Fine, go for it, I'm used to it but for the love of god, at least think about Riley and what kind of mindset and mentality you're putting in his head. No I'm not gonna resign and you really should make your peace with it because you're being absolutely ridiculous bud. Riley's a good kid and he's talented, you're going to make his life very difficult through everything it seems you're teaching him. Don't be daft and don't come at me with this rubbish mate. Please think hard about what you just said and never talk to me about this again for both or our sakes"
Javaid's Tweet Goes Viral
Javaid posted to his Twitter account of this exchange, "man imagine waking up on a friday and essentially being like "yooo, im gonna go be a racist ass muppet today and tell someone they shouldnt coach hockey because they're not white, cant wait!!"".  As could be imagined, this Tweet went viral and brought the attention of mainstream media as well as some big name notables.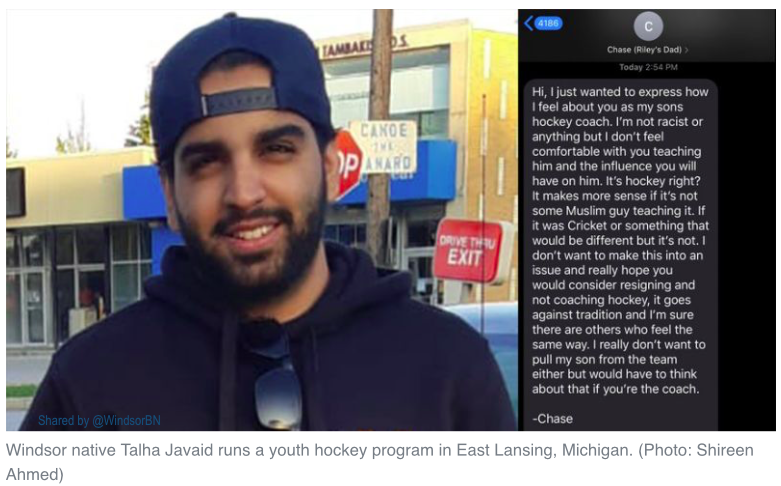 Some Background
Talha Javaid and his friend Sebastien Nystrom travel to East Lansing, Michigan and provide free hockey clinics for players between 5 and 8 years of age. Javaid was interviewed Shireen Ahmad for Yahoo Sports Canada and he explains his reaction "was like, 'What. The. Hell'".
Dr. Courtney Szto, assistant professor at the School of Kinesiology and Health Studies and Queen's University and assistant editor of the Hockey in Society blog, noted that "tradition is coded language for whiteness", and a "Muslim coach" "doesn't jive with our dominant narrative of who gets to participate in that culture."
Story over, right? Not by a long shot.
The question remains, who is Chase and where exactly was Javaid coaching?
News 10  spoke to a Yahoo Sports reporter who said Javaid told her it was at Suburban Ice in East Lansing. Suburban Ice said they did not want to go on camera but have never heard of Javaid nor the ice skating clinic he allegedly was holding.
Fox 47 News  checked ice rinks all around East Lansing and the surrounding area, "not one says they have heard of him before and no one had him scheduled to coach through their arena."
This isn't the first time Javaid claims he was a target for racism.
In 2017, he told the Windsor Star  he walked out of an ice rink in Windsor and found a note on his car that said, "(Expletive, expletive)! Stop coming to the rink! (Expletive, expletive) Muslim! Go Home! Make Canada Great Again." The writer scrawled the letters MAGA and MCGA on the note, abbreviations that presumably stand for the slogans, Make America Great Again and Make Canada Great Again.
If these are false allegations, it is uncool on so many levels, I can't even begin to list them all.   The narcissism and desire to go viral is so strong in some people, they can't seem to see the possible consequences of their actions.   The saddest part of attention seeking false allegations, is that it casts shadows,  throws suspicion and undermines the credibility of future victims of hate crimes.  For these reasons I say shame on you if these are the games you play.  If his allegations are true, I say shame on the haters.
Read more about Attention Seeking and Playing Victim on Wikipedia