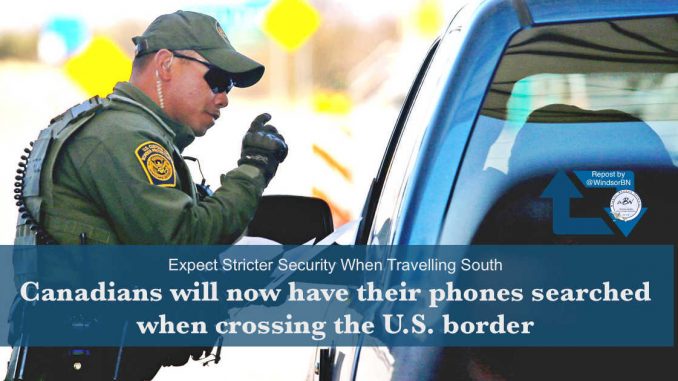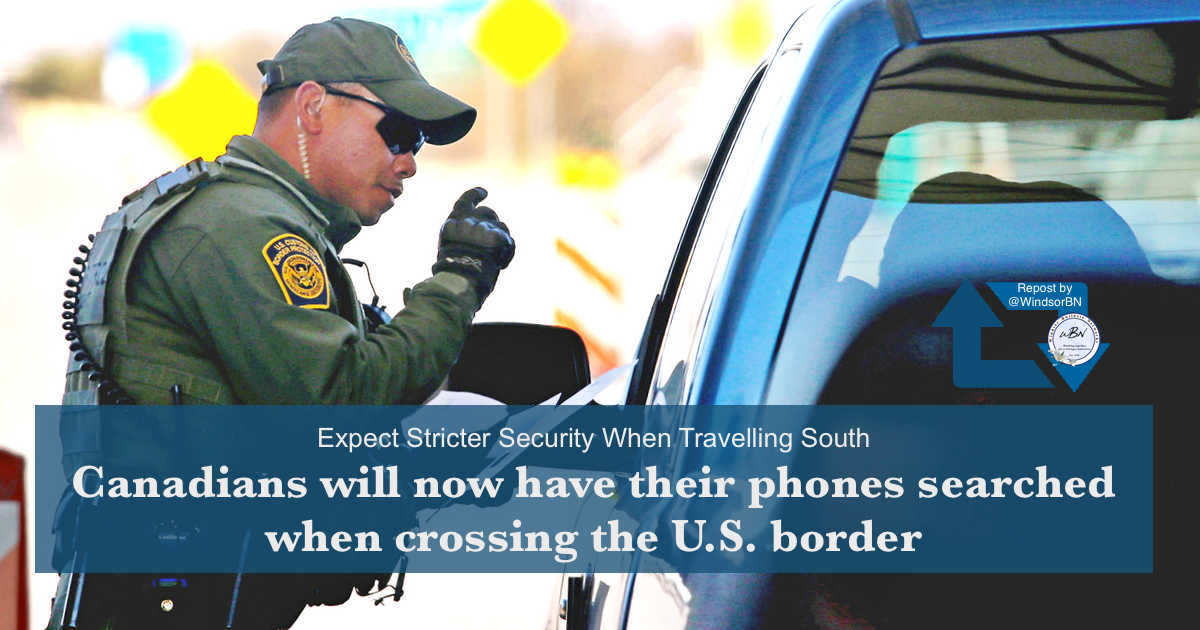 Canadians Will Now Have Their Phones Searched When Crossing The US Border
Expect stricter security when traveling south.
Canadians can expect to have their phones searched as a part of an added security measure when traveling to the U.S.
U.S. Customs and Border Protection issued a new directive in January that allows border agents to demand the passwords to travelers' phones and other electronics without probable cause. The Department of Homeland Security says such is necessary to counter crimes such as terrorism and child pornography.
"There are ways they can mess with you. They can just declare you an immigration risk . . . Detain you, turn you away until you co-operate . . . That's enough to scare people into co-operating,"
Here's a helpful summary from an article written last week byImmigration.ca that discusses the most recent developments of the 7-month old directive. These are currently the powers U.S. border agents have with regards to phone searches:
U.S. border agents can deny entry to anyone who refuses to have their phone searched when asked. While phone searches are not meant to be conducted on every traveler as a routine, every Canadian is still subject to possible random checks. They can demand a phone and its password without probable cause.
Officers conducting the search must first turn connectivity off, but travelers are advised to do so before approaching the border to ensure the search is limited.
More in-depth searches are only allowed when they are deemed necessary for national security. U.S. border agents must get approval from a higher ranked supervisor in order to do so. Once permission has been granted, the contents of the phone can then be uploaded onto a private hard drive.
U.S. border agents can confiscate phones if travelers refuse to have them searched. Phones can be kept for up to five days, or longer with approval from a higher ranked supervisor.
Lawyers can indicate sensitive files under attorney-client privilege. Information like journalist notes or medical files are subject to U.S. privacy laws.

 U.S. border agents

 must get legal advice before excluding such files from the search.
Any files taken from a searched device are destroyed unless they pose a security threat.
Travelers may be present while the search is conducted but they cannot ask to see the screen.

  

Search statistics must be documented and made public. Officials will conduct regular audits to ensure agents are following the rules.
Quick Facts: The Canada-U.S. Border
•  Longest international border in world at 8,891km, 2,475km of which is with Alaska.
•  3 million Canadians travelled to the USA in February 2016, with 2 million moving in the other direction.
•  400,000 people and $2.4 billion in trade cross the border each day.
Canada and US are second and fourth largest countries in the world by area.
•  Canadian provinces and territories on border: Yukon, British Columbia, Alberta, Saskatchewan, Manitoba, Ontario, Quebec, New Brunswick.
•  US states on border: Alaska, Washington, Idaho, Montana, North Dakota, Minnesota, Michigan, Ohio, Pennsylvania, New York, Vermont, New Hampshire, Maine.
Read the full article on Narcity
Read more on the subject