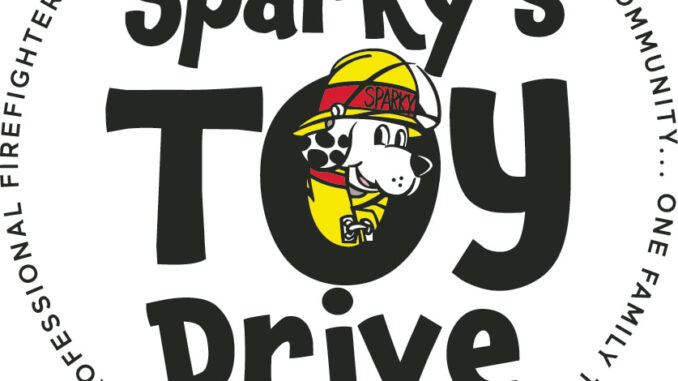 Sparky's Toy Drive Windsor 2023
Drop Off Locations
Fire Halls
Station 1 (8:30AM-4:30PM) – 815 Goyeau St. Windsor, Ontario
Station 2 – ​3121 Milloy St. Windsor, Ontario
​Station 3 – 2750 Ouellette Ave. Windsor, Ontario
​Station 4 – 2600 College Ave. Windsor, Ontario
Station 5 – 2650 Northwood St. Windsor, Ontario
Station 6 – 1587 Provincal Rd. Windsor, Ontario
Station 7 – 1380 Matthew Brady Blvd. Windsor, Ontario
The LaSalle Sparky's Toy Drive officially kicks off  November 12, 2023. Firefighters will be collecting new, unwrapped toys for children of all ages, gift cards, and cash donations. Visit the LaSalle Firefighters at Windsor Crossing Premium Outlet Mall, 1555 Talbot Rd. in LaSalle, on Saturday, November 25 from 10:00 am to 3:00 pm, to make a donation.
Donations can also be dropped off at the following locations until Thursday, December 7:
Active Body Physical Therapy – Sprucewood Ave.
Centerline – Morton Dr.
CIBC LaSalle – Malden Rd.
Countryside Home Hardware – Wyoming Ave.
Joe Schmoes – Malden Rd.
LaSalle Fire Service – Normandy St.
Reaume Chevrolet Buick GMC – Front Rd.
Vollmer Recreation Complex – Laurier Pkwy.
Other Drop-Off Locations
TOYS "R" US – Windsor – 3039 Howard Ave, Windsor, ON
Chartwell Royal Marquis -​ 590 Grand Marais Rd E, Windsor, ON
Walker Road Animal Hospital – 3577 Walker Rd, Windsor, ON
Sparky's Toy Drive 2023 Registration Dates!
November 17th – 9:00am-12:00pm; 1pm-5pm
Forest Glade Arena,  3205 Forest Glade Dr, Windsor, ON
November 18th – 9:00am-12:00pm; 1pm-5pm
Hotel Dieu Grace Hospital,  Prince road location (In the Brown Gym)
1453 Prince Rd, Windsor, ON
November 25th – 9:00am-12:00pm; 1pm-5pm
Adie Knox Arena,  1551 Wyandotte St W, Windsor, ON N9B 1H6
*Please note all times are from 9:00am to 12:00pm with a 1hr break for the volunteers. It will then start back up from 1:00pm to 5:00pm.
Important REGISTRATION INFORMATION
Distribution is set for December 9th and 10th – 8:30am- 5pm (Inside the Brown Gym) at Hotel Dieu Grace Hospital Prince road location
---
Sparky's Toy Drive is run entirely by volunteers and continues to operate by the generosity of the people of Windsor and Essex County. The fire department team is currently headed byJosh Easby, Cody Long, Bob Bailey, and Jordan Tellier. Many other Windsor firefighters (both current and retired) work multiple hours picking up toys and assisting businesses with charity events that help Sparky meet his quota. On the registering, packing/sorting and distribution side, our team is led by the Lalonde and McAgy family, and a team of many volunteers.