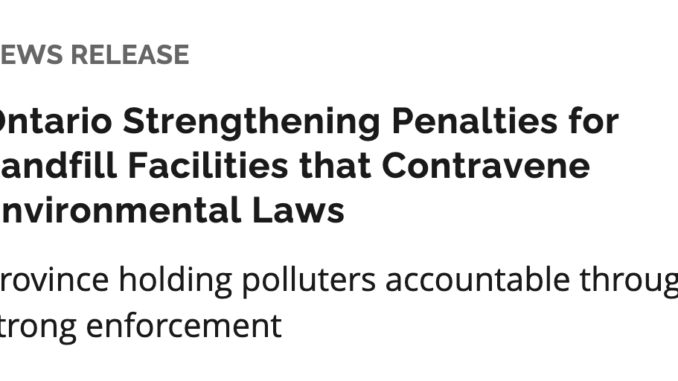 The Ontario government is strengthening regulations to clamp down on landfill site owners who contravene environmental laws. The changes will allow the province to take stronger action against illegal activity by giving enforcement officials the ability to issue monetary penalties. Without this type of penalty available, the ministry must take violators to court – a lengthy and costly process that can often take years to get results.
"Our government takes environmental violations very seriously, and we are committed to holding polluters accountable," said Andrea Khanjin, Minister of the Environment, Conservation and Parks. "By expanding environmental penalties to landfill facilities, this regulation gives us the ability to take stronger actions to protect Ontarians through swift financial consequences for breaking the law."
The environmental penalties will range from $1,000 per day for less serious violations to $100,000 per day for the most serious violations. The funds collected from these penalties will be reinvested in impacted communities through the Ontario Community Environment Fund to support activities such as shoreline cleanups or tree planting.
These local projects are in addition to other actions companies may have been ordered to do to repair harm caused by a violation of environmental laws, such as taking steps to prevent discharges of contaminants, including odour, that cause an adverse effect.
"This is welcome news for people in my community who have had to endure an intolerable odour from a nearby landfill," said Donna Skelly, MPP for Flamborough-Glanbrook. "This move will help ensure all landfills are in compliance with laws that help protect and preserve our air, land and water."
The ministry has successfully used environmental penalties to support enforcement of violations at industrial plants that emit pollution or discharge effluent directly to land and surface waters, and petroleum facilities that discharge sulphur dioxide into the air. Over the past three years, more than 95 per cent of facilities issued penalties were able to demonstrate actions to prevent or mitigate the violation and/or for having an environmental management system in place.
---
Quick Facts
The new regulation amends Ontario Regulation 222/07 under the Environmental Protection Act to expand the application of environmental penalties to landfills.
Anyone who witnesses a pollution incident is encouraged to report it immediately to the Spills Action Centre at ontario.ca/reportpollutionor by calling 1-866-663-8477. This could include (but is not limited to):

industrial or commercial noise or odour pollution
waste being dumped into the natural environment
improper disposal of commercial waste