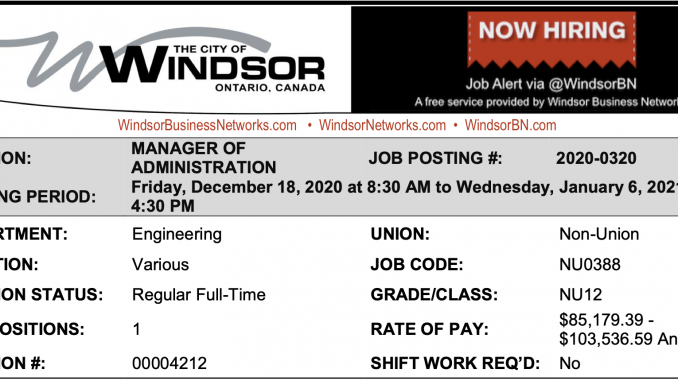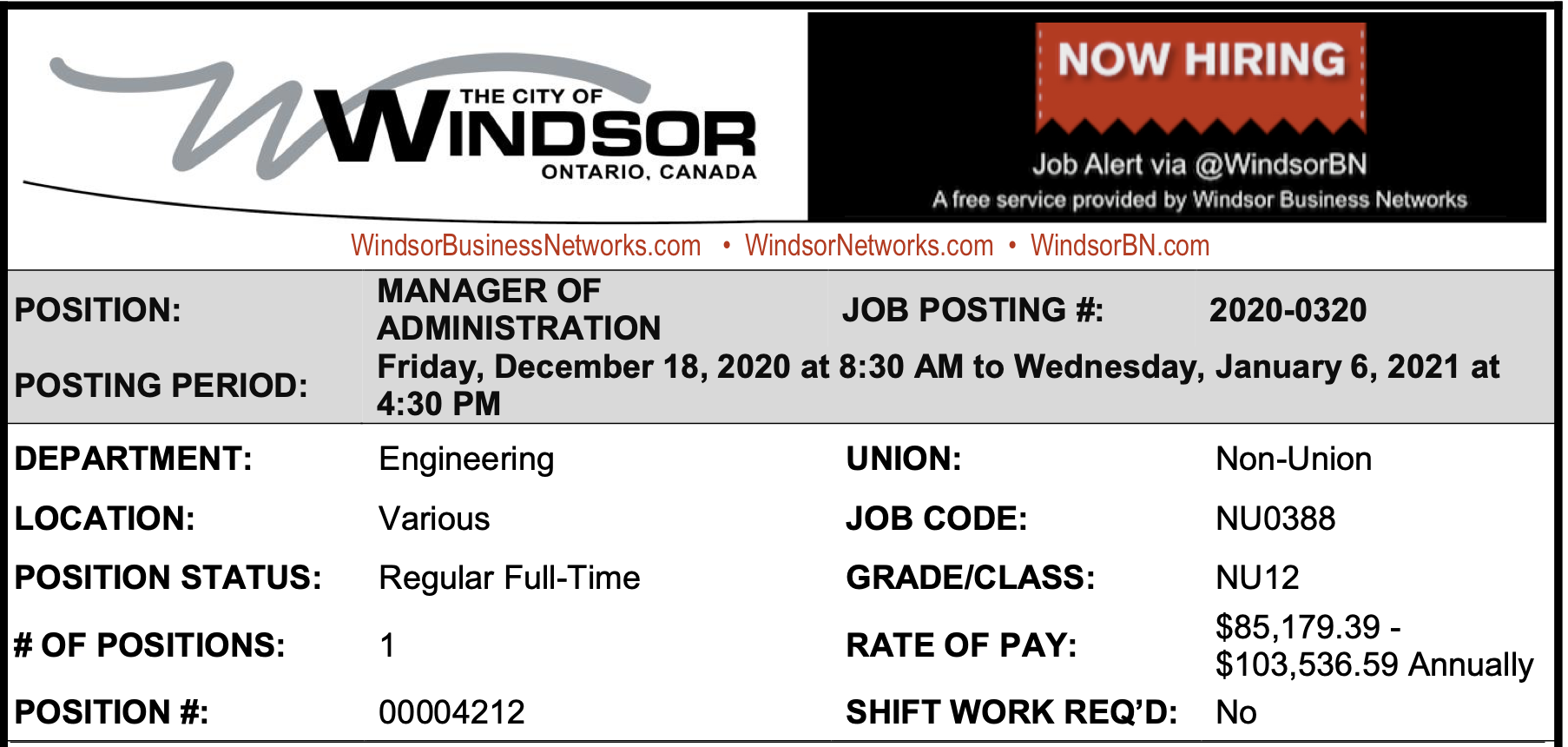 DUTIES:
Reporting to Senior Manager Engineering/Deputy City Engineer, this position will be responsible for the effective and efficient delivery of administrative services to all departments within the Office of Engineer. This position will be accountable for the provision of essential administrative support services unique to each department within the portfolio and will ensure effective Human Resource management of the administrative unit, in accordance with the various collective agreements and corporate policies and procedures. In cooperation with the Executive Directors/Senior Managers, operating managers and supervisors, will coordinate and liaise with other departments in the areas of: Customer Service, Facility Management, Human Resource Administration, Operating and Capital Budgets, as well as special projects and requests for grants; and any other administrative matters such as computer and equipment needs, new software applications, communications systems, etc. The successful candidate will ensure that staff adhere to financial controls and administrative support systems per approved legislation and consistent with corporate values and those of the service area and departments, including pertinent policies and procedures; Will be responsible for the maintenance of records and confidential information; Recommend the development, implementation and evaluation of programs or operations that relate to the overall efficiency and effectiveness of the administrative unit. Must be able to provide strong and effective leadership to staff in a progressive, team-oriented environment and maintain amiable relations with the public, other service areas and fellow staff. Will be responsible for statistical reporting. Will represent the service area on administrative projects and best practices. Required to prepare necessary reports for the Chief Administrative Officer and Department heads. Will perform Occupational Health & Safety duties as outlined in the Corporation Health & Safety program. Will perform other related duties as required.
QUALIFICATIONS:
 Must have a University Degree in Business, Public Administration or related field, or Ontario Ministry of Education equivalency and a minimum of six (6) years of progressively responsible managerial/supervisory experience; OR
 Must have a post secondary school community College diploma in Business, Public Administration or related field, or Ontario Ministry of Education equivalency and over ten (10) years of progressively responsible managerial/supervisory experience;
 Must have the ability to travel to off site locations in a timely and expedient manner as required. If method of travel is by vehicle, a current valid and lawful Driver's License is required in accordance with the Highway Traffic Act and must provide a driver's abstract as a condition of employment;
 Must have proven leadership qualities and be both self-motivated and a team player;
 Must have excellent organizational and multi-tasking capabilities;
 Must have operating knowledge of the Microsoft Office Suite of Products including Word, Excel, Outlook
and PowerPoint;
 Must possess strong problem-solving skills;
 Must have excellent written and verbal communication skills;
 Should have knowledge of the Occupational Health and Safety Act, its regulations and knowledge of
the hazards associated with the work;
 Will be required to complete and remain current as per the requirements of the Corporation's
Management Certificate Program;
 Progression through the Art of Supervision Program Certificate or a supervisory program of a similar nature is considered an asset;
 Knowledge and experience with corporate Human Resources, Payroll and Financial Systems will be considered a definite asset;
 Management experience in a computerized municipal and unionized work environment will also be a definite asset;
 The physical demands analysis associated with this job indicates a sedentary level of work.
HOW TO APPLY:
•   An online application is available and must be completed and submitted by no later than the posting period noted. Internet access is available at your local library branch.
•   If you require assistance to apply online, please contact recruitment@citywindsor.ca or call (519) 255-6515.
•   The City of Windsor strives to protect all personal information submitted via the internet in response to job postings. We will not ask you to provide your social insurance number or banking or other financial information. Sometimes things happen that are beyond our control. We cannot guarantee that data in our system is immune from unauthorized access. Please have this in mind when you decide to respond to job postings.
•   To apply for this position, click APPLY NOW
NOTE:
 Only those applicants selected for an interview will be acknowledged.
 We offer a smoke-free office environment.
 Personal information is collected under the authority of the Municipal Act, c. 25 as amended, and
will be used to determine eligibility for employment.
 The Corporation of the City of Windsor is an Equal Opportunity Employer.
In accordance with the Accessibility for Ontarians Act, 2005 and the Ontario Human Rights Code, the City of Windsor will provide accommodations throughout the recruitment, selection and/or assessment process to applicants with disabilities. If selected to participate in the recruitment, selection and/or assessment process, please inform the City of Windsor Human Resources staff of the nature of any accommodation(s) that you may require in respect of any materials or processes used to ensure your equal participation.
---