Successful women rely on other women to reach leadership roles, study finds.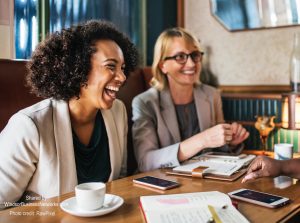 Landing an executive leadership role at a major company often requires making connections with the right people. Graduate students seeking high-ranking corporate jobs are encouraged to build a network of diverse and influential contacts, and avoid cliques.
That advice often works — for men. After all, the leaders of corporate America are overwhelmingly men: Women make up fewer than 5 percent of Fortune 500 CEOs and fewer than a quarter of Fortune 500 board members.
But for women, a new study suggests, networking like a man is simply not enough. For women seeking to break into a leadership position in the corporate world, the key to success may lie in other women.
A study published this week in the Proceedings of the National Academy of Sciences found that the most successful female job-seekers from a top-ranked graduate school relied not only on a wide network of contacts, but also on a close inner circle of other women who provide support and gender-specific job advice.