M.A.C. Cosmetics, Devonshire Mall
Their Staff Make A Difference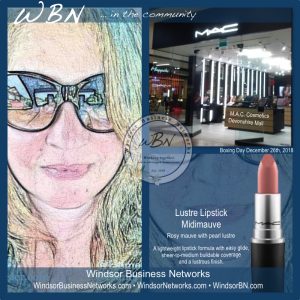 We went to the M.A.C. Cosmetics store because I wanted a new lipstick that matched my lip-tone with a light shimmer.  I have been looking to replace a colour that was discontinued years ago (by another company).  As always, I enter and become overwhelmed with the hundreds of colours to choose from so I'm happy and relieved when a staff member approaches and asked if I needed assistance and I quickly explained what I'm looking for.
She looked at the inventory, selected one, and said with confidence "this one will be perfect".  Looking at the sample and then at my shopping companion, both of us with looks on our faces that questioned her choice; but I was encouraged by my companion to at least try it and as I'm doing so, I suggested putting it on half my mouth while they looked for something else.  
With a careful swoosh, I applied the colour and it indeed was perfect.  Wow!  Just like that, after years of looking, I had my new colour that can be worn every day.
The lady who waited on me is my new favourite person!  She had a great eye for color, was competent, knew the products well, was courteous and friendly; all the things that go into a pleasant shopping experience.
I highly recommend M.A.C. Cosmetics at Devonshire Mall for their products and great staff for anyone who is serious about their makeup.
---
#BeSocial #FollowUs @WindsorBN
On #Facebook #Twitter #Instagram #Pinterest
#WindsorBN #WindsorBusinessNetworks #WindsorNetworks #WindsorRevitalizationInitiative #Windsor #YQG #CommunityDrivenContent #CommunityCuratedContent
#m_vglamdevonshire @m_vglamdevonshire #MACCosmetics #MACDevonshireMall #DevonshireMall #mvglamsquad @DevonshireMall #MidiMauve @tbjohnstonn #tbjohnstonn @m_vglamdevonshire #m_vglamdevonshire