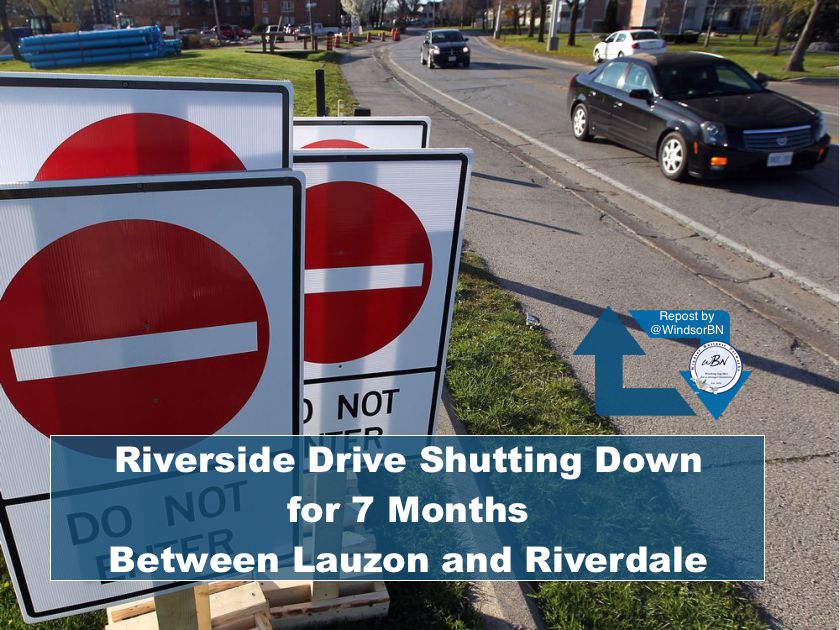 Riverside Drive to be closed for 7 months between Lauzon and Riverdale
A seven-month closure of a section of busy Riverside Drive starts Monday, as construction begins on the next stage of the Riverside Vista project.
Riverside Drive between Lauzon Road and Riverdale Avenue will be closed except to local traffic. The Riverside/Lauzon intersection will also be closed.
"We understand the inconvenience to the traveling public. We ask their patience in this but this is a much-needed improvement to the road network and I think they'll be pleased with the result," city engineer Mark Winterton said Tuesday.
He said the closures will be in effect from Monday until the end of the construction season, and, if weather doesn't co-operate, it could extend into next year.
"It's a big project."
A detour will be signed directing traffic up to Wyandotte and then back down to Riverside. The city will also look at adjusting the timing of traffic lights to improve the flow, Winterton said. He said that, usually, the bad backups happen in the first two weeks of a major road project, until people make adjustments to their routes and the times when they travel.
Winterton advised people to add some extra time into their normal commutes to account for possible delays.
The Vista project involves major improvements to the road, with new curbs and gutters, sidewalks on the south side of the street, bike paths, utility relocation and road reconstruction between the eastern boundary of Windsor and the roundabout in Sandwich to the west. It started with Phase 1, Stage 1 several years ago, between Riverdale and Solidarity Tower. The work starting Monday is for the next stage of Phase 1 and will cost nearly $7 million.
Council has also approved the $8-million Phase 2 to proceed, between St. Rose Avenue and Ford Boulevard. Engineering and land acquisition will be done over the next few years before construction starts.
Stay on top of this story at the source, The Windsor Star