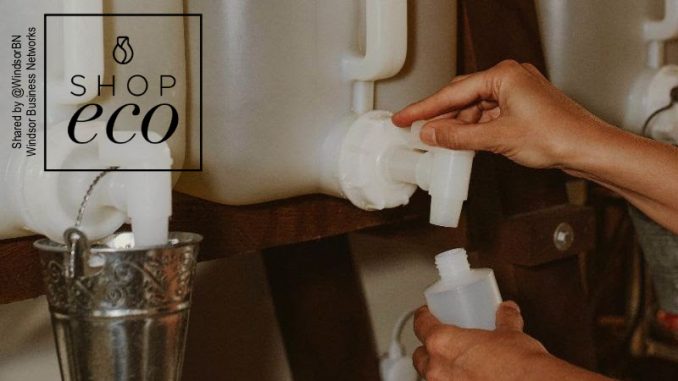 Hello again!
Before I dive into today's topic, I want to thank you so much for your response to last week's e-mail. Moving to a more personal, transparent style was nerve-wracking, to say the least, and I spent the better part of last Thursday feeling sick to my stomach with worry that you were going to hate it. But of course, you are awesome and kind, and I should have known there was nothing to stress about. So thank you.
And now, with my confidence shored up just enough to dare, let's dive into the story behind what is probably the most controversial business decision I have ever made in my seven years with ShopEco: discontinuing bulk refills. 😮
I knew it was going to be an unpopular move, but given that bulk only represented 1% of our revenue, I was still pretty shocked by the magnitude of the backlash. There is no topic that has ever generated as many bad reviews, angry e-mails, and heated interactions in the shop as this, and we are still hearing about it nearly one year later!
I know – bulk makes you (and your wallet) feel great and makes us look good and enlightened and environmentally aware. It seems like a no-brainer, so why would we ever get rid of it?
Well, there were several reasons, not least of which was the fact that those refills still generated quite a bit of waste. Our bulk products arrived in 10L plastic jugs, inside cardboard boxes, two to a box, which of course we recycled, but still – the "plastic free" lifestyle some of our customers were aspiring to involved a good amount of plastic behind the scenes.
Then there was the question of finding a setup for dispensing the bulk in a way that didn't cost a million dollars and didn't kill our arms with hours of working pump dispensers. The best option I was able to find was plastic carboys, which weren't super high quality, dispensed thicker products really slowly, and broke and leaked regularly, causing more waste.
But anyway, it was still a somewhat lower-waste option, and for a long time we made it work as best we could, and kept an eye out for ways to improve the process.
Then we came to a crossroads: Our space in Walkerville had nowhere left to put more products, the stock room was so stuffed we could barely move around, our team was spending sometimes 50% of the day dealing with those products that only brought in 1% of our revenue, and there was just no way to continue to grow without making a change. And it was clear when I looked at the numbers what we needed to do.
So we niched down our niche into an uber-niche. 😆
In order to focus on our core business of clean beauty and personal care, we said goodbye to cleaning products, water filtration systems, reusable snack bags, and litterless lunch items. And we said goodbye to bulk. 😢
To those of you who hate this decision: I am truly sorry. If there was a way for us to be all things to all people and thrive as a small business, I would be in. There just isn't. I know the bulk was a really affordable option and a really great brand. I know buying your bulk from the much-better-stocked-in-bulk-than-we-ever-were Green Envy is possibly not an option for you due to location. I know we're not the ShopEco you want us to be anymore. Please accept my apologies.
Despite the pain of the transition, it's turned out to be the right move overall. Here are just a few of the things we've been able to do with the time, space, funds, and manpower that refocusing our offerings made possible:
– We expanded our Beauty Team from one part-time aesthetician to five part-time and two full-time beauty experts (a mix of aestheticians, aesthetics students, and makeup artists). You can book a private, one-on-one consultation with a trained professional who will create a custom clean beauty routine for you, for free when you spend $60 or more on products during your appointment. They've helped many clients transform their skin and find new confidence.
– We brought in several much-requested beauty brands not available anywhere else in the city, most notably the world-renowned, makeup-artist-created clean cosmetics brand RMS Beauty.
– We made your shopping trip pretty much risk free with the introduction of a satisfaction guarantee. If you're not happy with your purchase for any reason, at any time, you can bring it back and we will make it right.
– We now send out about 500 handwritten birthday cards with a gift to customers every month. To get in on that action, just give us your birthday and mailing address next time you're in the shop (we never share your information with anyone outside ShopEco, promise).
– We give away free soap. Every day.
– And of course, we opened ShopEco Tecumseh! Woot!
I hope I've laid to rest some of the confusion around the changes to our product mix that have taken place over the past year. If you love them, I'm so grateful that you've chosen to come along for the ride. And if you don't, I'm more than happy to try to help you find what you're looking for elsewhere in the city or online. Just hit reply and let me know what you're looking for.
Till next time,
-Debra-
Debra Purdy, Owner
ShopEco
ShopEco
1645 Wyandotte St E
Suite 100
Windsor, Ontario N8Y 1C8
ShopEco (Tecumseh)
1141 Lesperance Rd,
Tecumseh, ON N8N 1X3
Source: https://bit.ly/2HtUXUd
Posted with permission.