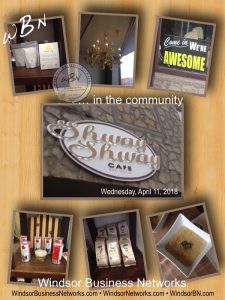 Where do we go when we take our friends out for coffee? Well, Shway Shway of course!
I took a friend from Shot in the Dark Studio and Gifts (British Columbia) for a coffee when she came to Windsor for a visit. We went to Shway Shway Cafe on Ottawa Street and ordered coffee, chit-chatted with the owner, sampled two varieties of soup and just chilled and talked for two hours.
The sign in their window is right!  Go in!  They are awesome!